What a year in residential real estate. And we've still got two months to go.
After a roaring start, the pace of things slowed down to a crawl for me. Worse, I started experiencing one deal after another (after another) that fell apart for one reason or another. You try working for free for months on end and tell me how you feel. All while you're still paying to play, advertise and give away swag, etc. What?! You mean you work and don't get paid… and it still costs you money even when you're not making any?! Correct. Such is the life of the entrepreneur. If it sounds more like an expensive hobby at times rather than a job, career, passion – or a calling — that's because can be. You get the idea. You pay your money and you take your chance; you eat what you kill.
Rock bottom.
Understandably, that started to get to me; it's difficult when your business basically fails. We all have our limits and it's difficult not to let it get to you. It's the unglamorous side that nobody talks about when you're self-made/self-paid (and one that's altogether omitted from any 'reality' realty-based TV show). 
One way I learned to cope with each 'dead' deal was to hold a 30-second funeral (albeit in my mind only) for each one. During that 30 seconds, I would afford myself all self-pity, anger, frustration, and sadness required to arrive at a Zen level of acceptance. By the way, it's an effective strategy to prompt reflection on lessons learned – and for me, that's quite something.
And yet.
If you're tough enough and have the grit, determination and self-assuredness to see things through, things will turn around. While it's tempting to pull back and take your foot off the gas (presumably to save a few bucks), that short-term thinking is actually self-defeating as nothing will sabotage the future growth of your business faster.
I'm genuinely not someone to believe in – much less say – wishy-washy things like "you just have to have faith", "trust the process", "you have to manifest it", yada yada yada.
But did I just 'yada yada yada' over the best part?
No, I mentioned, "trust the process". 
I recently had a spectacular listing that sold over asking in a multiple-offer situation. In this market. Who knew, right?! Well, it gets better. Something I'd previously simply dismissed out of hand actually pulled through in spectacular fashion: feature sheets available for anyone to grab (from a nice weather-proof box) as they walk by a For Sale sign. Who knew something as old-fashioned as a paper advertisement still worked?!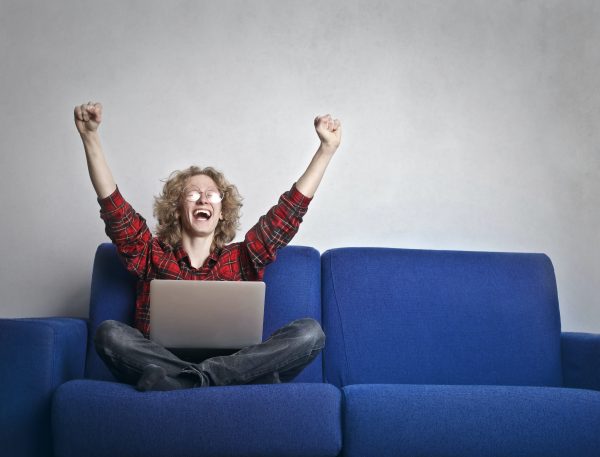 Well, as luck would have it, one person driving by stopped and grabbed one such sheet and, in a subsequent conversation, mentioned how "sticky" it was in prompting them that they "really had to call me and follow up on that". And so they did.
… and they soon bought a place that's since been described as "almost too good to be true". To say they're pleased is an understatement.
All because I pulled myself up by the bootstraps and kept plugging away. Funny how the harder you work, the luckier you get, eh?
Onwards!